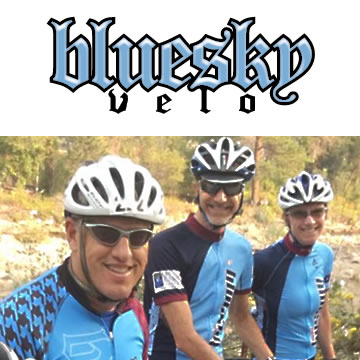 Our Story
St. Vrain Velo (now commonly known as Blue Sky Velo), began as the AcmeRacing.net cycling team in 2001. The club's sole sponsor was Acme Bicycles – a local bike shop in NW Longmont. The founders were Sam Freeman and Charlie Wiesel. The idea was to form a core group of Longmont racers who could train and race together and since no such team existed in Longmont, AcmeRacing.net was founded. The goal of the team was to enhance the sport of cycling through grassroots racing.
The beginning six members in 2001 were Charlie Wiesel (cat 2 roadie), Sam Freeman (cat 3 and Expert MTB), Dave Harber (cat 3 and Expert MTB), Mike Bernhart (Expert MTB), Rick Winberg (MTB endurance racer), and David Depuy (junior MTB).
By 2006 there were 64 members, and just one year later had doubles to over 120 members! 135 local cyclists called Blue Sky Velo their home cycling club in 2012! Our members are active in all diciplines of cycling and across all levels from novice to racer. You'll encounter us on the road, dirt, at triathlons and at races.
Today, the club's current top level sponsors include Boulder Salt, The Eye Care Center of Nothern Colorado, and Excel Sports of Boulder . Our members enjoy many benefits from our sponsors and discount sponsorship's.
Community Through Cycling
We ride, volunteer and generally endeavor to make our world a better place through cycling.
What Drives Us?
We love to ride our bikes, help our fellow members become better cyclists and giving back to the community through volunteering, service projects and generally being proactive, strong members of the towns we live and ride in!
Join Us Today!
Next Steps…
Interested in hanging out with like minded cycling enthusiasts who want to make a difference in our community?